Good evening loves! Can't believe it's already Tuesday. I had the absolute BEST weekend in Knoxville with some fantastic company! Unfortunately I was having so much fun that I didn't take a single picture of my outfits. So instead of a weekend recap I'm going to blog about another fall/winter trend that I LOVE: lace!
Lace is so very feminine, timeless and classy. It can add a touch of romance to any outfit and there are so many endless possibilities on how to wear it. I recently bought the following lace top from my go-to store Forever 21 for only $11.80. A lace top is one of my favorite ways to wear lace. I love the look of this shirt because the front is solid black but the sleeves and the back is cut-out in lace which adds just the right amount of lace to an outfit. This weekend I wore it with black jeans but I thought I would spice it up a little with my bright pants in an OOTD this week (check out how I wore the bright pants last month here: OOTD Bright Pants).
Top: Forever 21 (w/ tube top underneath)
Jeans: F21
Ballet flats: Wanted from Stein Mart
Another fabulous way to incorporate lace into your wardrobe is in a dress. This lace dress from Forever 21 (in stores now) will be perfect for parties this holiday season:
One of my favorite things about lace is that it is so versatile: it is totally appropriate for a dressy event or it can be made more casual by pairing it with jeans as I did in my OOTD above (and in my Polyvore below!).
And just to show you how big lace is, here are some of my favorite lace looks from fashion magazines, celebrities, and the runway:
First, some beautiful lace dresses:
Lace is appropriate even for the red carpet!
Country singer Kimberly Perry looked glamours in this Ralph Lauren white lace dress she wore to the CMA Awards last week.
The always fashionable Taylor Swift wore a black lace dress to a CMA Awards after-party last week. Take a cue from TSwfit and pair your lace dress with tights!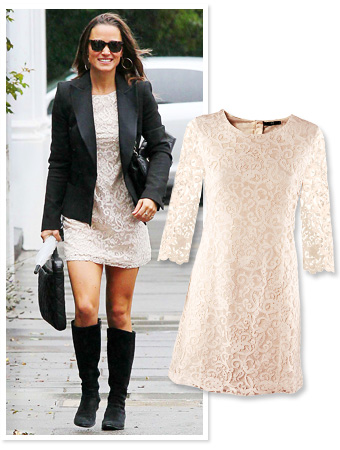 Love the way Pippa Middleton wears this H&M white lace dress!! She makes it casual by pairing it with a blazer and boots. Super chic!
Love the look of lace on the back:
From the November 2011 issue of InStyle magazine, model is wearing an Emilio Pucci jumpsuit.
A model wearing a lace design by Emilio Pucci from the September 2011 issue of InStyle magazine.
Today I saw this beautiful picture of Mary-Kate and Ashley Olsen on the cover of "Vogue Best Dressed"!
See how glamourous lace can be?

And of course I had to include a Polyvore of how I would wear lace. Keep one thing in mind when wearing lace: Stick with black, white, or neutral colors for a more classic look.